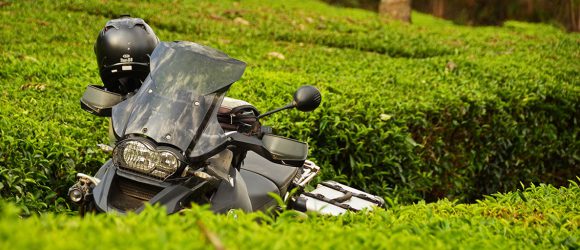 The journey not the arrival matters. – T. S. Eliot
The first night in Kerala I spent in Kochi. It's a major port city at the Malabar Coast in southwest India. Merchants and explorers got attracted by the city for more than 600 years and Kochi still ranks first in the number of visitor arrivals in Kerala. The historic district (Fort Kochi) was strongly influenced by the Portuguese and the old town offers travelers a wide range of attractive accommodation.
In the evening I paid a visit to the fishmongers, where I bought a White Snapper and a decent portion of prawns. While you choose your dinner, people will already start talking to you, to make you come to their restaurant and to prepare a tasty meal out of your chosen seafood.
Life in Fort Kochi was hassle-free and relaxed and I decided to stay an extra day. I left early Sunday morning and with great anticipation I was looking forward to see the hills of Munnar. I chose the route along the coast and while I was passing many bustling churches, the day welcomed me with an awesome sunrise in the backwaters.
In the late afternoon I reached Munnar. The small town in the Western Ghats of Kerala is placed within a sea of a thousand shades of green and a magnificent mountain scenery. As far as the eye can reach, hills and slopes are covered with a green carpet of tea-trees. The 1200 GS Adventure gave me once more the freedom to explore the hills of Munnar in my own way and I spent the next two days following small tracks through the highlands and various tea-plantations.
Then my way led to Valparai, located in a wildlife sanctuary. Shortly after I returned to the coastline and stayed for two nights in Allapuzha – also known as Alleppey. One can explore the backwaters of Kerala in various ways and the most popular one, often chosen by tourists, is an overnight stay in a houseboat. However, in Goa I got a tip from Patricia and Jan, a couple from the Netherlands, to buy a ticket for the public ferry from Alleppey to Kottayam. The ferry is so to speak the bus in the backwaters and stops at numerous places. Compared to the touristic houseboats, the ferry will give you a true insight of the people's lives in the backwater when getting closer to Kottayam. Not that the ferry is exceedingly luxurious. But for a long time now, luxury didn't play a role on this trip anymore. I wanted to see the life of the backwaters and for less than 50 cents I cruised five hours through a network of rivers, water channels and lakes. I saw what I came for …
On the way further south I was asked by a friend, if I would give an interview to the "Hindu Times". Although this concern had been brought to me quite a few times, I was regularly on the road before it actually came to a fixed appointment. In this case, however, I did Jerim the favor and thus stopped for a personal interview in Trivandrum. A few days later THE HINDU published an article with the title "Wonder of Wanderlust".
Slowly I came closer to the southernmost tip of the Indian subcontinent. I spent two more nights in Kovalam before I finally reached Kanyakumari, the small fishing village at Cape Comorin. When I strolled through the town in the afternoon, I suddenly thought I heard someone calling my name. To my surprise, I met Christian again, a German guy I got to know in Fort Kochi. Together we spent a lovely evening, before it was time for me to go to bed. I had to leave the Cape around four in the morning to make my way up north back to Bangalore. The temperature very often reached 40 degrees during daytime and it was therefore advisable to start before sunrise. After another night in Bangalore, I was back in Gokarna the following evening.
Just before I reached Gokarna, I got pulled over by the police. They had already stopped a young couple on a Royal Enfield, since tourists often hire motorcycles with missing or invalid documents. I asked the officer friendly what the matter was and he said he wanted to see my driver's license, documentation for the bike and my passport …
Now, try to picture the situation: I had travelled more than 16,000 kilometers on Indian roads. I passed countless traffic controls throughout India without ever getting stopped by the police. I spent a very long day with up to 41 degrees on the road, was dressed in full gear (most people don't even wear helmets in India) and by no means did I look like a tourist who might have been on an illegal afternoon ride … I just looked very surprised at the officer, smiled and asked him "Are you serious?". It was the first policeman who asked for my papers after five months … It took him a second but then he also smiled and meant that he was sure I would have it all there. Then he waved me through and I gave him my thanks.
These were the last days of my trip and it got increasingly hotter on the Indian subcontinent. In a few weeks from now the monsoon would start a four-month rainy season in the country. Many shacks on the beach had been already closed and I just hoped that my favorite little restaurant had not yet started to shut down. I felt relieved when I saw that the "Bhagavan Cafe" was still open. The waiter kindly welcomed me and for the next days I enjoyed long walks on an empty beach, the warm water of the ocean, I put me feet in the sand, wrote, read and got served with an excellent culinary cuisine.
From Karnataka, I went to Palolem, a gorgeous beach in the south of Goa. If you ask me, Palolem is by far the most beautiful beach in India's smallest state. Had this spot not already been so lovely by nature, my personal experiences would undoubtedly have made it my favorite beach in Goa. Palolem will always remain in my memories …
But as T. S. Eliot said "Not All Those who wander are lost" … and after another night in Vagator in North Goa, I saddled the 1200 GS Adventure for the last time. We had to do another 600 kilometers and instead of taking the main highway I picked the road along the sea.
It was a sunny day. But it was also a thoughtful day. Many impressions and memories crossed my mind. I thought of the first day on the road, of people I had met, of the tragic accident in China and the many adventures along the way …
I left my hometown in northern Germany on a Monday morning in April, just before sunrise. A year and more than 50,000 kilometers later, with no longer fresh looking clothes, scuffed boots, some scratches and a dusty face, I arrived in Mumbai, the capital city of the Indian state of Maharashtra. It was a Sunday evening long after sunset.
The adventure of "Heading East" would come to an end here …