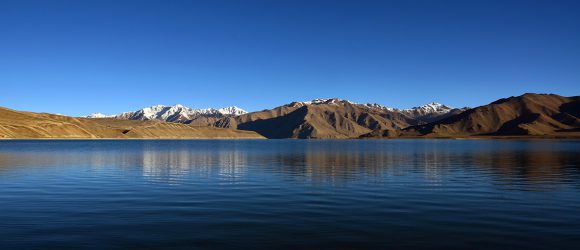 Do not follow where the path may lead. Go, instead, where there is no path and leave a trail. – Ralph Waldo Emerson
When I came out of the Anzob-Tunnel, I parked the bike and had a chat with the driver of the white Land Rover. A woman said to me that they were very worried about me. Well, I answered, I was very worried myself …
In Dushanbe, I met Kim. He's on his way to Mongolia and intends to cross Siberia. The Pamir appeared to both of us as a challenge. Locals call the area Bam-i-dunya – the roof of the world. Nature is rough, some areas are pretty much deserted and a sudden technical problem, could easily become a major event.
The Pamir Highway from Khorog to Osh was built by Soviet military engineers between 1931 and 1934, in order to facilitate troops, transport and provisioning to this very remote outpost of the Soviet empire. Being a major drug-smuggling artery, the road has several border-guard checkpoints, where you will have to register. Our path led more than 500 kilometers along the Afghan border.
Kim and I decided to travel together into the mountains. We chose the less traveled southern route, which follows the river between Afghanistan and Tajikistan and crosses the Wakhan Valley. Tajikistan is one of the countries which suffers from the collapse of the Soviet Union. The support from Moscow has dried up and for some people they wish for the return of the "good old days". The country has hardly any own resources and financial budgets to develop the infrastructure, are apparently limited. Hence, everyday life in the mountains is hard and very basic.
There are nearly no hotels in the mountain area of the Pamir. Accommodation can be found in so-called "homestays", simple rooms rented by local families. Sleeping facilities are often just mattresses on the floor. The sanitary facilities meet only local standards and running water or a warm shower are by no means a given. Electricity is often only available for a few hours in the evening, provided the generator is not on strike, but this was more or less the case. Thats's why we went several times rather early to bed.
Out of the more than 1,200 kilometers from Dushanbe to Osh, we rode nearly half of the distance standing on our bikes. While driving standing on the bike is basically more exhausting, it allows significantly better handling in difficult terrain. Many sections are unpaved or in poor condition and the fine dust of gravel and dirt-roads penetrated nearly every corner of our equipment. As we passed a small waterfall on a sheer rock wall, I took the opportunity and went straight into the cold shower to wash at least the worst of the dirt out of my KLIM suit.
When we were on our way up north again, we made a detour to the Yashi'kul lake and were rewarded with a breathtaking landscape. The lake is 3,700 meters above sea level, which, however, also makes this region one of the coldest in Tajikistan. Regardless the climate, we still made it to camp there for a night. Moreover, the amazing scenery with its snow covered mountains, a deep-blue lake and an empty beach triggered the idea to have some fun with the bikes closer to the water … a truly great if not entirely rational idea with serious consequences. To get my bike back to the tents was a painful chapter but we had learned our lesson …
The night was long and cold. I knew I had to make compromises when going on this journey and since I would be mainly travelling in warmer areas, I decided to go for a summer sleeping bag. It goes without saying that my equipment was not designed for alpine regions and at 1:30 a.m. I climbed out of my sleeping bag and put all available warm clothes on. However, this little interruption of my "sleepless" night gave me the chance to have a look at the stunning sky. Quite a few years have passed since I had the opportunity to admire the beauty of a night sky far away from any city light.
Even though I put more clothes on, I wouldn't say I had a cozy night and when we opened our tents in the morning, we got a real idea how cold the night had been. Our water bottles had a thick layer of ice inside …
From Yashil'kul we went to Murghab and as this little city was not really a nice spot for a Saturday evening, we only had a bite for lunch and left the place in the late afternoon towards Karakul. The village itself wasn't actually more exciting than Murghab but is situated on a big lake. We decided to stay for a day before we would cross the border to Kyrgyzstan.
Along the roadside to Karakul we noticed fences of barbed wire, which marked the border territory between Tajikistan and China. Given the proximity of China, I suddenly became aware how far I have travelled within the last couple of weeks …