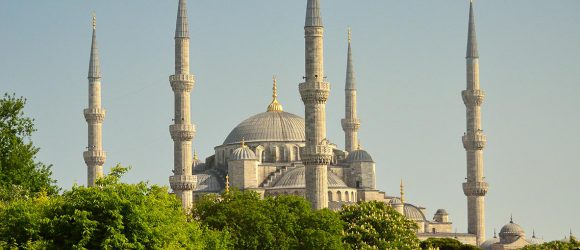 When you travel, remember that a foreign country is not designed to make you comfortable. It is designed to make its own people comfortable.
– Clifton Fadiman
On the weekend in Istanbul several things came together. Friday night Selim and his family gave me with tea and a turkish dinner a warm welcome to their home. Selim introduced me to the islamic culture and included a few important facts I wasn't aware of. Those hints should be very useful when travelling further east and into Iran.
On Saturday afternoon I met with David, Jim and Clive for the first time. We will cross China together and it happened that they were also in Istanbul for the weekend. Good to know that the guys appreciate a healthy sense of humor. I will meet with David and Jim again end of the week at the shore of Lake Van, two thousand kilometers further east. Afterwards, we part ways again. While my route leads through Iran to Turkmenistan, David and Jim are travelling through Georgia and Azerbaijan. We see each other again mid-June in Kyrgyzstan.
The Sunday had its surprises as well: First, I crossed the Bosporus – the strait that separates Europe from Asia – giving me the chance to enjoy the traffic conditions in Istanbul once again on the way. In the afternoon I took a walk through the shopping streets of the old town and incidentally noticed the increased presence of the police aside the street. Then, protesters marched on and suddenly everything went very fast: A loud bang, water cannons, tear gas and Halenur suddenly pulled me into a shop, which was just about to shut down and lock the glass doors. Even with the doors and the blinds closed you still felt an acrid smell in the nose and got tears in your eyes. Looking at the video cameras of the store we saw how the police swept the street and after a few minutes it was all over and we continued our walk through the old town.
The evening was characterized by football chants and fans of Galatasaray Istanbul fully got their money's worth. The Turkish club won early its 19th Title in the championship and whoever was staying in the old town at that time, was an inevitable part of a football party. Actually, I wanted to leave the city already Monday morning, but then stayed two more days and got to know the city a bit more off the beaten tracks.
Well, but there was still something I had to tackle this weekend. It was a step back to my "Planning and Preparation Phase. I was afraid to make that mistake again – too much well-intentioned luggage. However, after a week and 2,500 kilometers, it was clear that it would require a very critical review. It started with my favored Eau de Toilette, which fell on Sunday out of my washing bag and smashed on the floor. Also a way to reduce one's luggage. Nevertheless, it was more than clear that one must also part with things that you really don't want to miss. The decision was more difficult when it came to spare parts. In the end, six kilo of luggage went back to Germany.