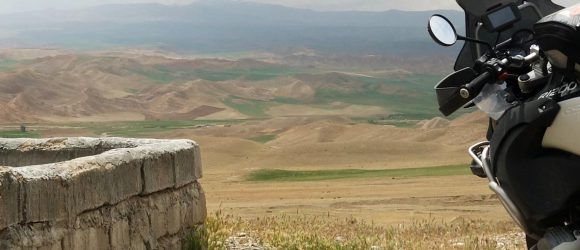 If travelling is most rewarding when it surprises, then Iran might be the most rewarding destination on earth. – Andrew Burke
In my visa application I indicated Bazargan as the border gate from Turkey to Iran, but since the weather looked rainy again, I chose the shortest route from Van (Turkey) to Tabriz (Iran). I had no idea whether the information mentioned in my visa application were stored somewhere electronically and were of relevance. The worst case would probably be being rejected on the Iranian border, which would mean to re-enter Turkey and take a detour of several hours to Bazargan – but I took a chance.
I reached the border around noon and as so often in the past few days it was raining. The departure from Turkey went smoothly. Then I went to the Iranian side. To enter some countries with your own vehicle requires a "Carnet de Passages", a document which guarantees that the vehicle is imported only temporarily and thus no import duties are levied. In Germany, the carnet is issued by the German automobile club ADAC and must be covered by bank guarantee or a cash deposit. If the document is not properly stamped when entering or leaving a country, it can get complicated. In some countries, import tariffs of more than 100% of the vehicle's value would be due. To enter Iran the Carnet de Passages is also indispensable.
But first of all I went to the migration. The border officials examined my passport and asked me several times where I come from. The pass would be turned over and over, the visa was carefully inspected and when I asked if there was a problem, I was just told "Please, sit down sir." Later I got an idea why the procedure was so delicate. Mid-June is election time in Iran. The term of office of Ahmadinejad comes to an end and a new president will be elected. Due to the election this year, it is obviously much more difficult to obtain a visa to travel through Iran. Lucky me, I got one!
Eventually, the border guards were satisfied with my documents, I got the migration stamp, had to buy an insurance for the bike and got the required information signed and stamped in my Carnet. All this was of course done in Farsi, so in fact I had no idea what was written on the documents.
In the evening I reached Tabriz, a city with about 1.5 million inhabitants. On my way, I was wondering how to get in touch with Farshid, as I was invited to stay in his house. He asked me to call him when I was in town, but international SIM cards do not work in Iran and I still had no idea where I could buy a local one.
I signaled a moped driver in traffic, that I wanted to talk to him. Although he spoke no English, he was immediately looking for someone who was able to speak the language. Shortly afterwards he returned with an English speaking guy. In the meanwhile even more Iranians took notice from the foreigner on a motorbike and offered their help. I asked if someone could call Farshid to tell him that I was in town and to ask him where he wanted me to go. The answer came prompt. I should wait, Farshid would pick me up in 30 minutes. I was impressed. In the meantime, the guy who made the phone call offered me tea and introduced me to half of his family and a few more friends.
When Farshid showed up, I thanked for the tea, a few photos were taken and I sayed good by and followed Farshid and his friend Amir across the city. With his support, I bought the same evening a locale SIM card. The contract also required the name of my father and at the end the paper had to be sealed with signature and fingerprints.
After Farshid had closed his shop late at night, we drove to his house. Around midnight chicken was barbecued and we talked about life in Iran, the government's policy, the impact of sanctions and the difficulties in everyday life. We talked about a generation dealing in its own way with a fundamental islamic government, a generation which does not agree with the politics of its country and which does not identify with the imposed guidelines and laws.
Around 3:00 clock in the morning, I decided to stay the next day in Tabriz. Amir offered me to free himself as much as possible from work and to show me around the city. This way I got the chance to experience what it means to grow up as a young man in Iran. Officially it is not allowed that unmarried men and women "hold hands" in public, drink coffee as a couple or go to the movies together. In shopping malls announcements are made, which point out, that women need to hide their hair under the scarf. At times, all this seemed to me like a science fiction movie in which an institution is trying to control their people's life in details … Unfortunately it's reality in the 21st century.
However, people of Iran are open and sometimes take the risk of getting arrested by the police. Women wear far back bound fashionable headscarves, use make-up and show up in modern jeans below the still mandatory chador. The majority of the country is apparently not in line with what is presented by Ahmadinejad. But Mahmoud Ahmadinejad is just the representative of the Islamic Republic of Iran. The real power is in the hands of Ali Chamene'i, political and religious leader of Iran and successor of Khomeini, spiritual leader of the Islamic revolution. Pictures of Chamene'i and Khomeini are everywhere in the country – in shops and public buildings – but such omnipresence does not necessarily mean, that people share the viewpoints of its Supreme Leaders.
If you make your travel decisions based on what your friends and family say, you'll probably never make it to Iran, a country whose politics are impossible to escape. But for those of us who have been grown up on an endless diet of images depicting Iran as a dark, dangerous place full of fundamentalist fanatics, discovering the real Iran is the most wonderful surprise. Beyond the stereotypes is a country desperate to be seen for what it is, rather than what it is depicted to be.
If you like people, you will like Iran. The Iranians, a nation made up of numerous ethnic groups and influenced over thousands of years by Greeks, Arabs, Turkie and Mongol occupiers, are endlessly welcoming. People will talk to you on the streets, invite you for tea and if you get lost or you can't find your way, you are never alone. A journey to Iran will change the way you see this part of the world.
From Tabriz I travelled to Qazvin. On my way it was once more cold and rainy and I was wondering how rain can hurt so much. But it wasn't only raining. I came across a hailstorm and the temperature dropped to five degrees. When I looked for shelter at a gas station, people offered me hot tea and a place next to a radiant heater. After a stayover in Qazvin I went to to Esfahan and Shiraz. Cities, famous and beautiful at the same time and rich of people with generous hospitality.
But more of that later.